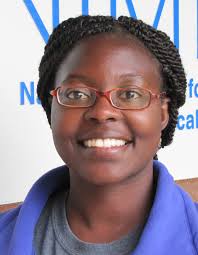 "…take every opportunity to learn new skills so you can use that information to be knowledgeable and perhaps improve this world.  Keep learning!"
According to the National Academy of Sciences, in order to maintain the U.S. science and engineering workforce we must invest in the talents of all Americans, especially minorities. The Program for Excellence & Equity in Research (PEER) is supporting this effort by collaborating with STEM departments at The University of Tennessee, Knoxville (UT), to recruit, retain, and facilitate graduating underrepresented Ph.D. students in behavioral or biomedical research fields. PEER, is a graduate training program funded by a grant from the NIH designed to enhance the graduate experience of first and second year students from any eligible graduate program at UT and to increase their competitiveness after graduation. PEER provides professional and skills development that go beyond traditional classroom academics and research skills. PEER's holistic approach to graduate training ensures that scholars develop skills and attributes that will be needed for successful careers, well beyond the Ph.D. degree. "PEER's professional development workshops helped me by improving my writing and presentation skills, as well as developing skills in fellowship and grant writing.  These are skills that I presently use to write grants to support my research," said Dr. Pelagie Favi. ('14), a recent Ph.D. graduate from UT who started as a PEER scholar.
Favi is currently a Future Faculty Postdoctoral Fellow in the Department of Chemical Engineering at Northeastern University under the mentorship of Dr. Thomas J. Webster. Her primary research focuses on developing and characterizing advanced biomaterials to restore normal function to injured or diseased tissues. Prior to joining UT and PEER, Favi completed her undergraduate studies in chemical engineering from Montana State University and master's degree in biomedical engineering from Virginia Commonwealth University. Favi's desire to be an independent researcher and to help solve problems, such as heart disease and shattered bones, led her to pursue a doctoral degree in Material Science & Engineering at UT.
"I am a better engineer today." Favi credits her success as a scientist not only to the challenging classes at UT, but also to the mentoring, professional skills development and financial support provided by PEER. She specifically mentions how PEER's requirement for her drafting an individual development plan, facilitated her success as a graduate student.  Having the mentoring support of faculty from multiple disciplines across campus is unique to PEER.  The faculty mentoring team supports scholars in their scientific development by providing expert advice and identifying resources to overcome any potential barrier to degree completion, but also as role models to the diverse PEER scholars by, sharing their experiences and personal academic stories. Similarly, PEER scholars are trained to mentor entering graduate students, constantly expanding the mentoring network available to these students.  In the PEER mentoring spirit, Dr. Favi's advice is to "take every opportunity to learn new skills so you can use that information to be knowledgeable and perhaps improve this world.  Keep learning!"
Written by: Sekeenia Haynes, Ph.D., Program Administrator, PEER